Stay Home, Stay Safe, Be An Armchair Traveller
Let's be honest, being An Armchair Traveller is the only option at the moment!
Following on from last week's blog, I should have been an Armchair Traveller when it came to going to Bounce Below…
I'm sure that Bounce Below is many a person's dream…it's just not one of mine. When my bestie and her two girls came to stay, and with the forecast of rain being imminent, we decided to treat the girls to an afternoon of bouncing on trampolines in a slate cavern….like you do…
"Oh cool! Can we go? Can we go?" Suffice to say, the girls were definitely up for the challenge. All was fine until we read the small print. "Ages 7-12yrs require a participating adult"…"That's OK…you can go in, I'll wait for you!" I said to my friend! I was only joking of course. How bad can it be? It'll be OK…
On arrival we checked in and were led to the Bounce Below Nets. We were met with a wall of sound…Kylie Minogue singing "I Should Be So Lucky" (how appropriate), mixed with screaming children….not a good start…"Is there a bar?" I asked. Unfortunately not…..
The girls soon got into the swing of things, or is it a bounce of things, anyway they were soon off doing their thing…leaving two women of a certain age clinging to the side of a net for dear life. It was like a scene from The Titanic.
"It's no use, I can't move. Every time a child bounces past it's bounces me off my feet!" I screamed.
"I know! Let's try and move over there, it looks quieter over there.." came the reply.
"Do you think we'll make it…?"
Further hilarity ensued…Picture trying to do a running moonwalk on a trampoline, combined with a "dodge the over-excited child and father having the time of their lives" challenge, and then you'll get the picture.
I honestly can't totally discount Bounce Below though. Many families obviously enjoy the experience. Bounce Below is indeed massive, down in the old slate caverns. There are several "Bounce Zones" linked by slides, stairs and net tunnels. For a "Something to do on a Rainy Day" it's great….speaking of which; www.welshbreak.com/things-to-do/on-a-rainy-day has lots of suggestions on places to go, including Bounce Below!
So back to being An Armchair Traveller, let's have a think about the time when we are able to travel again…..
One of the first places I'm sure guests will head for will undoubtedly be the beach. We have many beautiful beaches dotted along the Llŷn Peninsula coastline, there are so many to choose from, but the nearest to Gors-lŵyd are Nant Gwytheryn, Trefor and Nefyn.
Nant Gwytheryn is the Welsh Language Centre near Gors-lwyd. You can walk from Gors-lwyd to Nant Gwytheryn, but be warned, the road is very steep. So after a day on the beach, it's a long trek back to the cottage. Nant Gwytheryn has a stony, quiet beach and like Trefor the Welsh Coastal Path runs alongside the beach and up and over some stunning clifftops. There is also the cafe at Nant Gwytheryn – a bonus!
Trefor Beach is a 10min drive away. It's a small sandy beach with a harbour. There is ample parking and it's not too busy, even during the summer school holidays. The Welsh Coastal Path runs along the cliff tops from the beach and the walk is easy, with some stunning views. It's definitely one of my favourite places.
Nefyn Beach is about a 15min drive and is a mile long sandy beach and again, the Wales Coast Path runs along the clifftop overlooking the beach.
Check out the Beaches Guide on our website; www.welshbreak.com/things-to-do/beaches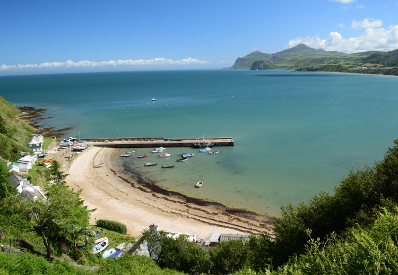 « A Mine, an Old Lady and a Cat | Fencing, Flowers and Fancy Gardens »