A Mine, an Old Lady and a Cat
It's raining today….it hasn't rained for ages. On a day like today, my guests (if I had any!) would be planning a day undercover somewhere. This made me think of the last day out we had, seems ages ago now!
Just before all this lockdown business, our friends came over for the weekend. What do you do with an 11 year old? We decided to organise a trip to Llechwedd and go on their Deep Mine Tour. It's a long, long time since we did the Tour.
We booked on-line the day before and chose the Early Bird Tour (Early Bird Tours are half price – ideal!). If you go for this tour, it starts at 09.30 and you have to be there 30 minutes prior to the start for the safety briefing. So we were pleasantly surprised when our 11 year old companion was up for the challenge of being up, dressed and fed for an early start the next day!
All was perfectly planned until the night before…..Charlie, our ginger tom, came wandering in looking sorry for himself, with the biggest abscess I have ever seen on the side of his belly…good grief…Further inspection and we found several scratches and missing fur – yes, you've guessed it – he'd been in a fight. So what do you do when you are supposed to be on the Deep Mine Tour for 09.00 the next morning? Panic!
I called Llechwedd first thing the following morning. I explained the situation and that we would have to re-schedule for later in the day. I was more than happy to pay the extra for the full price admission, as I didn't want to disappoint our friends.
I have to say, the lady on the reception was brilliant. She was more concerned about Charlie than re-scheduling our booking and taking the extra fee, which was lovely and broke the ice straight away. As it was a quiet time of year, she said don't worry about it just come along this afternoon, we will just transfer your tickets over. It's when you speak with people like this lady, who could have been awkward and unsympathetic, it restores your faith that there are some lovely people out there!
So back to Charlie. The next morning, Hubby to took him to the vets. He came back with a sad looking Charlie shaved on one side and (sorry about this) an oozing, draining hole. Oh my goodness! Little Charlie!
"Has he not got one of those lampshade collars?" I asked.
"No, I didn't think he'd wear one so I didn't bother" came the reply.
Grrrr…For goodness sake, I made a trip back to the vets to collect a collar… Here is where the next tale starts…
Pulling out of the vet's car park, I spy an elderly lady stood at the bus stop with a cat in a basket by her feet. My heart sank, the sight of her with her headscarf and cat made me feel so sad. Yes, you guessed it, I pulled over;
"Hi, can I take you home, the sight of you and your cat has broken my heart!"
"Are you sure, I only live the other other side of town, but I don't drive so had to get the bus" came the reply.
"Sure, get in it's no problem".
Clock ticking, clock ticking, have to get back in time for the Tour….
So, Lady (I can't remember her name), Cat (Daisy May) and I, are all heading for Pwllheli. A quick drop off and then back home, shouldn't take too long;
"So, whereabouts do you live?"
"Sarn" she said.
Sarn!!! That's not just the other side of Pwllheli, it's at least 10 miles away!
Anyways, 20 minutes later, yes 20 minutes later, Lady (I can't remember her name) and Cat (Daisy May) promptly delivered to Sarn. Good deed for the day ticked off, and after a 20 miles round trip, time to get back home and go to Llechwedd.
Back to our day out:
We arrived for the Deep Mine Tour nice and early, listened to the safety briefing and grabbed our hard hats, 11 year old nervous now….dad told her not to be so daft…! I don't think that helped though…
We got in the yellow cable railway and descended into the cavern. We knew the 11 year old was still nervous…she'd gone very quiet!
We met our guide for the Tour, he was fabulous. He had worked down the Mine for most of his working life, as had many of his family before him.
The Tour is completely different to when we did it several years ago. It's very interactive now, with projected images of the Mine owner and the workers. By the way, 11 year old now fully into the swing of things and enjoying herself! Hurrah!
The Tour "follows" the workers (as projections) throughout the Mine and is really interesting. We learnt how the Mine functioned, how the workers had to work by candlelight, we visited their very small canteen and we also learnt how they kept their spirits up in virtual darkness. The Tour was made all the better by an excellent guide. It was about an hour and half long.
Back on the surface, we visited the gift shop and sampled their Llechwedd Cheese…delicious! Cheese promptly bought.
All in all, it was a great day out and we can certainly recommend it for when you next visit.
Next time I'll tell you all about the day at Bounce Below….I hated every minute of it!!!! I discovered very quickly that I'm just not made for Bouncing Below!!! Ha!
Keep safe everyone, and hope to see you soon.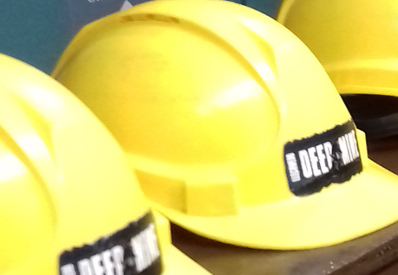 « Life in Lockdown – A Personal Blog | Stay Home, Stay Safe, Be An Armchair Traveller »