ON A RAINY DAY
I know it's hard to believe but it does sometimes rain in Wales!  But fear not, there are lots of things to see and do even when the weather is letting you down.  Here are just a few suggestions for all the family…
THE GORS-LŴYD GAMES ROOM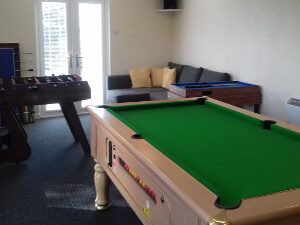 Of course! Perfect for a rainy day! Challenge yourselves to a few games of pool, darts or table football. You can watch a film or TV, play some music, make a cuppa and relax. It's open 24 hours a day, 7 days a week – and it's FREE!!
CWRW LLŶN BREWERY TOUR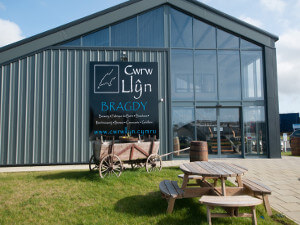 Did you know that we have our very own independent brewery on our doorstep? In Nefyn you will will find Cwrw Llŷn – this is where the beer in your welcome pack came from. The Brewery is a real success story. Starting from humble beginnings in an old cowshed in 2011, Cwrw Llŷn now has a purpose built brewery in Nefyn and it can produce 50 firkins (small casks) of beer at a time. The Brewery now hosts guided tours 12pm-5pm Mon-Sat. The tours last between 45 min – 1 hour. Adults £7, Under 18/Concessions £4. Free parking. You can always visit the Brewery Shop and tap room – free entry 12pm-5pm Mon-Sat. Just head for Nefyn and follow the brown visitor signs for "Cwrw Llŷn".
LLŶN MARITIME MUSEUM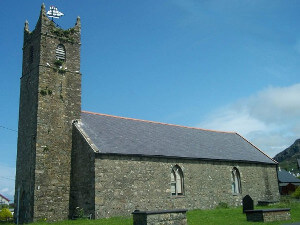 In the heart of Nefyn you will find the Llŷn Maritime Museum. The Museum is housed in St Mary's Church, look for the ship on top of the church tower and you will find the Museum! Nefyn was a thriving maritime town and was famous for its herring industry. The Llŷn Maritime Museum holds a large collection of artefacts from Nefyn and the Llŷn Peninsula. Artefacts such as paintings, photographs, model ships, documents, navigation equipment, shipwreck artefacts, ship building tools and flags. It's well worth a visit – it is FREE to enter and is open from April to September, Wednesday to Sunday 10.30am-4pm.
GLASFRYN PARC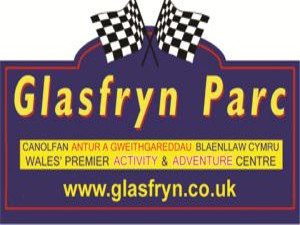 Glasfryn Parc is only a 10 minute drive from Gors-lŵyd.  It has an indoor play area, ten pin bowling, licensed restaurant and cafe.  Outdoor activities include go karts, quads, archery and wakeboarding.  It's recommended that you pre-book for all activities as it can get quite busy.  Open all year, every day 9am-9pm.
PWLLHELI LEISURE CENTRE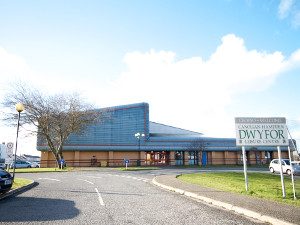 Our local leisure centre has a 25m swimming pool and a children's pool with water slide.  Always check that the pool is available as sometimes it is closed for school use.  There are also tennis courts, squash courts, football field, indoor cycling studio and a fitness room.
BODNANT WELSH FOOD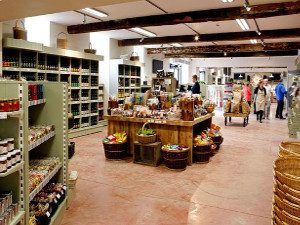 Bodnant Welsh Food is an award-winning centre which celebrates the very best of Welsh food and drink.  It has an excellent farm shop where you can sample and buy from onsite butchers, bakery, deli and dairy.  Also more than 97 local artisan producers.
There is also a cookery school.  A tearoom, modern restaurant and a wine cellar.
The centre is in the Conwy Valley and is surrounded by the countryside of Snowdonia.
PENRHYN CASTLE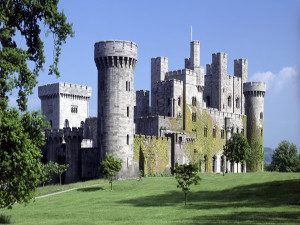 Penrhyn Castle is a great day out for all the family.  It's a huge country house built in the style of a castle.  You can explore the castle and its rooms and even have a tour on the roof tops – with the aid of National Trust volunteers who are always on hand to share their knowledge.  There are also large gardens to look round as well as a railway museum and cafe.  Penrhyn Castle is located near Bangor.
LLECHWEDD SLATE CAVERNS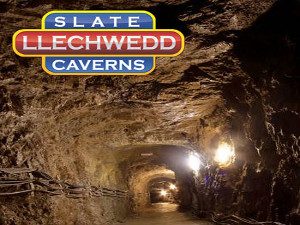 **Early Bird Discounts for 2019 at Llechwedd Slate Caverns – see here for more details**
The slate caverns are in Blaenau Ffestiniog and it is also home to Bounce Below and the Zip World Caverns.  At Llechwedd you travel 500ft below the surface for a guided tour of the slate caverns.
NATIONAL SLATE MUSEUM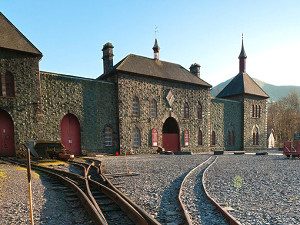 The National Slate Museum is free, yes free, to enter. Based at Llanberis, the museum is set up as if the workmen have just downed tools. It is an educational tour around the museum with incites into life down the mine, the process of mining and slate splitting. There are also four lovingly restored quarrymen's houses which are set up to show life through the ages of the mine.
ZIP WORLD CAVERNS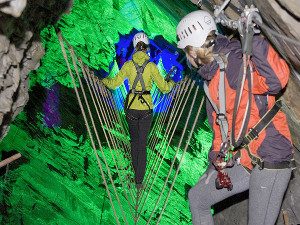 The Zip World Caverns take you on a journey through the old slate caverns by way of zip lines, rope bridges and tunnels.  After being kitted up you will have a training course on the lanyard rope safety system before you are let loose to explore the caverns – not for the faint hearted, but there are guides on hand at all times to help if needed.
BOUNCE BELOW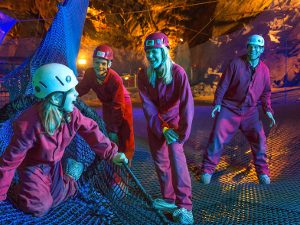 The surreal experience of Bounce Below is unlike anything seen before, huge nets are hung in the old slate cavern at varying levels, linked together by tunnels and slides, where you are free to jump, climb and slide – releasing your inner child! Following a massive refurbishment in 2016, the Bounce Below experience now offers four new industrial slides, the height of two double decker buses and six new levels of bouncing fun, giving underground adventurers 400 additional square metres to explore.
Bounce Below operates all year round. Opening times do vary so please contact or check the website where you can also book on-line.
PIGGERY POTTERY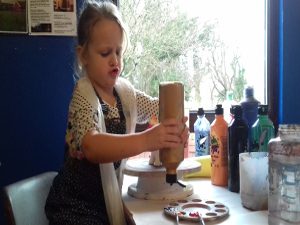 Great for all the family, Piggery Pottery is is located near Llanberis.  Have a go at throwing a pot on the potters wheel, or paint your own design on a huge range of pre-made pots.  There is also a cafe, picnic area and pottery shop.