A surprise, a letter and a glimpse into Gors-lŵyd's history…
A few weeks ago, I received an unexpected letter from America. A previous owner of Gors-lŵyd was kind enough to share some of the time he spent at our cottage. His son had found our website and passed our details on to his father. It's a wonderful incite into Gors-lŵyd's past and we have kept in touch by letter and email since. I hope you enjoy his letter! John owned Gors-lŵyd from approximately 1976 to 1980/81.
"…at one time I was the owner of Gors-lŵyd. I thought you may be interested in my recollections of that ownership, made possible by the careful research of my son who found your website.
In 1975 my wife and I left our comfortable Southam home to set up shop in Montreal, Canada. That fair city provided me with some of the best experiences of my life, and there is little doubt that events were extremely kind to us. Yet there was something missing. Something that was hard to pin down, but the unrest seemed best described by the adage that you can take the man out of the country, but not the country out of the man.
My family had been holidaying in Abersoch (The Warren) since 1948, so it is no surprise that Mom and Dad decided to retire there. Time spent on many vacations gave us lengthy exposure to Welsh culture and language, which we learned to like and respect through friendships forged over the years. So it seemed natural to charge Dad with the task of finding a small property that would suit our needs somewhere on Pen Llŷn.
This proved to be a daunting task, and after a couple of fruitless months of searching for something within our modest budget, we were ready to abandon the quest. Then came the breakthrough. I got a very animated transatlantic phone call (yes – even in those distant days! But at a hideous price…) from Dad saying he had located a property in Llithfaen that fitted the bill and was available, but not to dally if we had any interest as the owner wanted to sell quickly. Llithfaen? Where was that? I dug out the atlas and pinpointed the village. Hmmm. I may even have driven through it unaware, whilst navigating the road from Pwllheli to Nefyn. Didn't make a searing impact on the senses it seems. Nonetheless, trusting Dad's judgement, we gave the go-ahead to proceed.
The owner, Mrs Roberts, proved to be a splendid person. Gors-lŵyd became ours for the sum of £10,100. From memory, Mrs Roberts had been a widow for a while, her husband perishing in an effort to save some domestic ducks imperilled on the open sea. She didn't drive, and I think then the isolation of her situation in Llithfaen coupled with advancing years was the motivating factor in selling up and her move to Pwllheli. I later discovered in the outbuildings some textbooks for R W Roberts, presumably her son, who attended college in Bangor. On completion of the sale, Mrs Roberts wrote Dad a gracious and sincere letter wishing him all good fortune in his ownership. A gesture surely that today would not happen. Different times…
There were a number of rather ramshackle outbuildings parallel to the access road (roughly the place now occupied by your games room), stretching back towards the main road and one of these was occupied by a local lad called Iorwerth. I can't remember how this came about, it was some arrangement Dad (ever the fixer/negotiator!) set up. Iorwerth was looking for a place to accommodate his small wrought iron working business, so a deal was struck and he set up his workshop at Gors-lŵyd in return for a peppercorn rent.
Inside the house, the central feature had to be the Aga in the kitchen, which supplied warmth for the whole house – although not much percolated upstairs! The floors were bare earth tamped flat and covered with roofing felt. Lest you think this a primitive solution as a foundation on which to place your furniture, let me assure you that there was never any issue with it during my ownership! The carpets were never plagued with damp or mould.
No discussion of Llithfaen could be considered complete without mention of the local pub. In those days, I believe it was known as the "Victoria". I liked it a great deal, and spent a few happy hours in there with friends (including Iorwerth) before the hard slog back up the hill to crash at Gors-lŵyd. The landlord suffered from pancreatitis and his devoted wife was in a constant search for remedy, though it must be said the licensed trade is not the ideal occupation for one so afflicted. The pub had a secondary use as a galley for local artists, and I paid £10 for a better than competent oil of a tractor being driven on one of Pen Llŷn's country lanes. The painting is still in our family.
I learned that the economic vicissitudes of the 1980s were about to force the closure of the pub when a consortium of villagers intervened and bought the building. I see from the website that it is now Tafarn y Fic, a splendid haven for Welsh culture as well as the slaking of thirsts. Bravo!
Tafarn y Fic's website makes mention of Twm Morys, a poet. I wonder if this is the son of Jan Morys (Jan Morris), the author of the magisterial Pax Britannica trilogy which I read with so much pleasure? I know Ms Morys retired to Trefan Morys, which I believe is near Llanystumdwy – hardly a vast distance away.
Well, I have been provided an extremely happy trip down memory lane, and it has been wonderful to reconnect with all those good times. I would of course love to revisit, but age and health coupled with an eleven hour flight make that a distant prospect. Still, it could be a possibility……"
With all best wishes
John L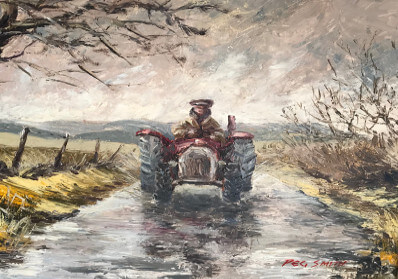 « Zip Around The Fforest on the Fforest Coaster! | Pwllheli Food Festival 8 June 2019 »