Zip Around The Fforest on the Fforest Coaster!
A self-catering holiday at Gors-lŵyd, doesn't have always have to be all quiet walks and strolls along beautiful beaches…you can always Zip Around The Fforest on the Fforest Coaster!
It's a roller coaster like no other! Zip World Fforest Coaster is an alpine-style toboggan roller coaster for all ages. The Fforest Coaster is in the heart of the The Conwy Valley, near Betwys-y-Coed.
The ride starts by taking you up into the forest. Then you will be able to zip your way down through the trees as fast as you like – you can control your speed at all times as this is a gravity driven coaster.
It is an all-weather activity. In the rain the toboggans can be fitted with a cover. Cameras are situated along the ride so you can purchase a photo, or selection of photos, at the end of your session.
Each toboggan can carry one or two people. It is suitable for children as young as 3, children aged 3-8 must have a driver over the age of 9.
The ride is busy all day – so booking is advisable. This can be done on-line Zip World Fforest
Here are some stats!
65m up & 710m down
How Fast? up to 25mph
How Steep? max 25% gradient
How Many? 3 rides
Duration Approximately 6 mins per run
There are other activities on site here at Zip World Fforest. You can also choose from TreeTop Nets, Zip Safari, Skyride, Tree Hoppers and Plummet 2!
TreeTop Nets is a series of bouncy walkways 250m long, suspended 60ft up in the trees. At the end of each walkway are "junctions" where you can choose which way to go. Along the way are areas with large bouncy balls and a large slide where you sit in inflatable tyres to slide down to the next level.
Zip Safari is a zip line high among the trees where you literally zip between trees and negotiate obstacles. This is for adults and children over the age of 9.
Skyride is a giant swing suspended 80ft in the air. The swing takes up to four people at a time. This is for adults and children over the age of 7.
Treehoppers is a children's adventure through a playground in the air where they can zip, hop and bounce their way around. This is for ages 5-12.
Plummet 2 is not for the faint hearted! A trapdoor, yes a trapdoor will drop you in pairs 100ft in a near-freefall!
So if you are wanting a break from the peace and quiet at Gors-lŵyd, there is always something to do not too far away!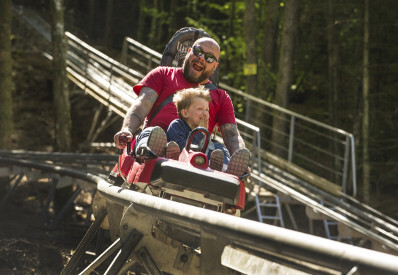 « Gors-lŵyd Joins mudandroutes.com | A surprise, a letter and a glimpse into Gors-lŵyd's history… »