Yr Eifl – National Nature Reserve
Yr Eifl – National Nature Reserve
Did you know that Yr Eifl is a National Nature Reserve? What makes this even more special is that it's right on Gors-lwyd's doorstep!
The whole area is a lso a Site of Special Scientific Interest, and the upper slopes of Yr Eifl is was designated a National Nature Reserve in 2013. So why a Site of Special Scentific Interest and why a National Nature Reserve?
Site of Special Scientfic Interest (SSSI):
This is a nationally important heathland extending to over 500 m above the coast and is designated an SSSI principally for its botanical and ornithological interest.
Heathland and heather species are the prediminant feature here with Heather, Bell Heather, gorse, cross-leaved heath, deer grass, purple moor-grass and bog mosses. On the upper slopes there Cowberry, butterwort, yellow-sedge, carex and spleenwort.
The principle ornithological interest is the population of chough which breed on the natural and artificial rock faces and feed on the heaths.
A herd of feral goats is also present, and these are commonly seen on the lower slopes near Nant Gwytheryn and Trefor.
National Nature Reserve:
Yr Eifl was designated as a National Nature Reserve because of the presence of heathland at the highest peak, Garn Ganol this is 564 metres at the highest point.
Also, the population of breeding Choughs make this a very special Reserve. The populations of Choughs are in steep decline and they are a priority species for conservation and protection.
The Nature Reserve also incorporate the Iron Age Hillfort of Tre'r Ceiri which is one of the largest and best-preserved in Britain. It has been the subject of considerable restoration work.
A stay at Gors-lwyd make access to this area extremely easy…we are situated at the foot of Yr Eifl, so these areas are right on the doorstep! Mountain walks are a must if you stay!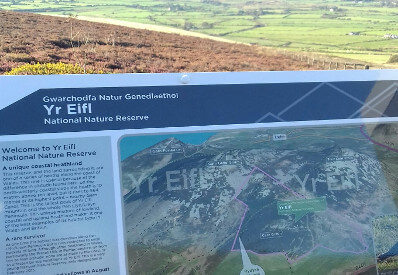 « Go-Below Voucher and Discount Code for January 2020 | Life in Lockdown – A Personal Blog »