Go-Below Voucher and Discount Code for January 2020
Have a great start to 2020!! Take advantage of Go-Below's January offer. Using the code "Nadolig2019" at the checkout, you will be able to get 25% off. There are three adventures to choose from at Go Below:
Go Below Challenge:
The Go Below Challenge presents you with a series of obstacles on a subterranean journey that'll leave you buzzing for more!
Starting from The base at Conwy Falls, you'll be kitted up with a harness, helmet, lamp, Wellington boots and safety equipment before heading off to the mine. You'll enjoy some stunning scenery on the walk up before heading into the darkness…
On your underground journey through the mountain you'll encounter forgotten deep blue lakes, lofty caverns and ancient mining machinery lying abandoned in the darkness. You'll cross zip lines and traverses, climb rock faces and waterfalls, boat across water and abseil off ledges for that thrilling adrenaline rush that'll leave you feeling totally exhilarated! Should you also want to know about the mining industry and its history during your adventure, the knowledgeable guides will happily fill you in!
Whatever the weather, all year round, the Go Below Challenge is a guided half-day (approx 5 hours) experience intended for those looking for a unique adventure activity which is sporty, physical and fun. No experience is necessary and all safety equipment is provided. You won't have to squeeze through tight spaces and although you might get splashed, you won't be immersed in water – unless you want to be!
Go Below Hero Xtreme:
The Go Below Hero Xtreme trip starts with a 1/2 hour walk to reach the foreboding 1860's entrance to the largest and deepest slate mine in the world – Cwmorthin.
Known amongst the quarrymen who worked there as The Slaughterhouse, due to its fearsome reputation for danger – the mine is as magnificent as it is massive. Over 50 miles of tunnels and caverns hewn from under the mountain go to make up a three dimensional labyrinth which descends deeper than any other slate mine in the world.
The Go Below Hero Xtreme trip takes visitors on a challenging, adrenaline-fuelled journey through vast tracts of Victorian mine workings not worked since the late 1800's.
After getting kitted up with boots, helmet and harness, visitors walk up into the mountains to begin a underground day of high adventure.
The route crosses ziplines and bridges over gaping chasms, follows ancient ledges and walkways past hideous drops and navigates ladders on towering chamber walls. It passes over deep water, up and down time-worn miners stairways, past old and derelict machinery and even underground buildings still survive in the gloom.
Eventually the journey reaches a depth of over 1,300 vertical feet, the deepest publically accessible point in Great Britain, before winding its way slowly back up an equally challenging series of obstacles to emerge back into the daylight – tired but grinning!
Go Below Ultimate Xtreme:
Go Below Ultimate Xtreme is a staggering five kilometres of pure underground adrenalin through some of the worlds most spectacular abandoned mine workings for an adventure that many people have called the greatest trip of their lives.
The Go Below Ultimate Xtreme route runs long and deep under the mountains of North Wales. In fact it takes all day to get around it. It's a tough, full day of fun that makes everything else look totally tame. This isn't some hour long "whilst we're passing" whim – it's  high adventure in the Xtreme – supersized!
There are nine, yes nine underground zip lines which all run deep underground, suspended high up in the caverns and each zip line is in a different chamber.
There are a few World-firsts here – the World's longest underground zip line, the World's deepest underground zip line, the World's first underground free fall, the World's first underground zip line. Also Britain's deepest point as well as miles of high traverses and via feratta!!
Not for the faint hearted, it's recommended that you are very fit to take part in this adventure.
For more information and to book a place visit: Go-Below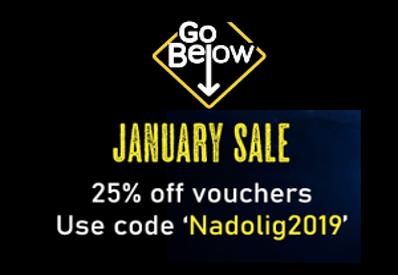 « GA, 21 December 2019 | Yr Eifl – National Nature Reserve »