Wales Coast Path is celebrating its 10th anniversary this year
Did you know that the Wales Coast Path is celebrating its 10th anniversary this year?
Wales is host to 870 miles of spectacular coastal walks! It is one of the few footpaths in the world to follow a country's coastline.
Here in the Llŷn Peninsula, we are so lucky to be able to enjoy some of these Coast Paths – all along the most beautiful coastal scenery. And here's even better news; The Wales Coast Path is right on Gors-lwyd's doorstep! You can walk straight out of Gors-lwyd and be on the footpaths to Porth y Nant, Nant Gwrtheyrn, Trefor and Nefyn. The paths are clearly waymarked and some even have cafe's and pubs along the way – perfect!
A little further afield, you can enjoy the coastline walks along the edges of the Peninsula. Walks at Porth Oer (Whistling Sands), Porth Ceiriad, Porth Neigwl (Hell's Mouth), Porth Ysgo, Porth Ysgaden – the list goes on!
At Gors-lwyd, you will find lots of maps and books to help you decide which walk to choose from. I don't think you will be disappointed in any of the walks!
You can have a glimpse at the coastal path on our Gors-lwyd video. The video features the path from Gors-lwyd's gate, the beach and path at Trefor and also the coastal path and beach at Nefyn.
If you need some more inspiration, take a look at our Walks On The Llŷn Peninsula page for some ideas. Here you will find lots of information, including routes and photos of some of our favourite walks. On the Walks On The Llŷn Peninsula page, you will also see the Visit Wales/Visit Snowdonia videos of Nefyn, Porthdinllaen (look out for the Ty Coch pub on the beach, and the local brewery at Nefyn) and Aberdaron (look out for the Ty Newydd pub with its terrace overlooking the beach, one of our favourites spots for lunch in the summer). Do take the time to watch these, the scenery and atmosphere captures this area really well…..it's stunning. Watching them again now, it looks as though no visit to this area is complete without a frisbee – you will see what I mean – ha!
We are proud to have been awarded Visit Wales "Walker's Welcome" status. This means you have all the tools you need to enjoy all sorts of walks. We have maps, books, local guides and even flasks and lunch boxes etc. And not forgetting that this is Wales and sometimes it can rain, we have a washing machine and tumble dryer so you can be clean and dry for the next day's walk.
We really look forward to having you stay at Gors-lwyd. We are booking up fast for 2022, so please always check for availability.  If you need any further information or would like to book, please feel free to contact me, Sam, via our website Enquiry Form, email sam@welshbreak.com, or call me 07960284357. See you soon!
Our image of Porth Oer/Whistling Sands is courtesy of Wales Coast Path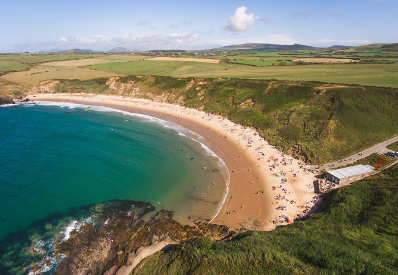 « Gearing Up For a Busy 2022 at Gors-lwyd Cottage | JC, 11 April 2022 »