Life On Bardsey Island
On a glorious circular walk along the Wales Coastal Path in May, the sight of Bardsey Island was ever present. Just about 2 miles off the coast of Aberdaron, Bardsey Island is a National Nature Reserve and Site of Special Scientific Interest.
In old times it was a focal point for many pilgrimages – it was said that three trips to Bardsey was the equivalent of one trip to Rome…because of its popularity it also has become known as the burial place of 20,000 "saints". Bardsey's history goes back even before these early christian times – flint shaped by man had been found on the Island, leading historians to believe people lived on the Island at least 4,000 years ago.
Is there life on Bardsey Island? Nowadays there are only a few permanent residents on Bardsey, businesses are sheep and cattle farming as well as fishing. The island has nine self catering cottages but there are no electric lights, power sockets or central heating or mains water. Toilets are outside and are compost toilets. Water is supplied by several wells on the island, heating is by gas heaters, log burners or Rayburn stoves. No shops. There is a fully functional lighthouse which is lit via solar power.
The island is a haven for wildlife; birds including puffins, guillemots, razorbills, seals and porpoises.
Boat trips to the island are from Porth Meudwy and you will have about 4 hours to explore the island. Skipper Colin runs "Bardsey Boat Trips" and there are boat trips daily from March to October (weather dependent of course) – see the boat trips on Our Top 10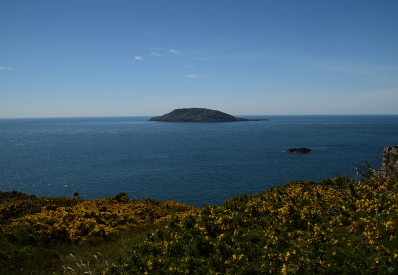 « Walking The Wales Coast Path?…Well Get The Bus! | Criccieth Festival and Food Slam… »