Spring Is In The Air! Plan Your Visit To The Llyn Peninsula
Spring Is In The Air! Plan Your Visit To The Llyn Peninsula
Spring is definitely in the air lately and we are getting ready to welcome guests as soon as we are allowed to. In the meantime, why not start planning what to do and where to go on your next holiday at Gors-lwyd, on the Llŷn Peninsula?
This week, I've been looking through all my photos of the local beaches dotted around the Llŷn Peninsula. We are truly blessed with some lovely locations, some busy, some quiet, some you can only get to by foot.
Here is one beach, photo courtesy of Visit Wales, and I think it looks gorgeous. I can imagine myself sitting here! It's Porth Ysgo a small sheltered and secluded beach, on the southern tip of the peninsula not far from Aberdaron.
It is so secluded that you have to walk down nearly 150 wooden steps to get to the beach. When you get to the beach, you will be welcomed by golden sands and a little surprise or two. There is a stream trickling down the beach to the sea. This comes from a series of waterfall from the cliffs above. After rainfall, the waterfalls are quite stunning.
You may even see some hardy climbers/swimmers bouldering around Porth Ysgo.
It's best to time a visit to Porth Ysgo around the tides, as at high tide, there will only be a limited amount of beach available to you.
There is no car park, but there is a small amount of roadside parking available. It is tricky to find and a bit tricky to get to, but it's definitely worth a visit.
On the way back to your Gors-lwyd, you can always stop off at Aberdaron and grab a snack or two from Becws Islyn bakery. Renowned in the area for their delicious bread, pies, pasties, cakes and sandwiches. All these are baked and/or made daily. Becws Islyn is easy to spot. It's on the main road through the village and it has a thatched roof. You will find a shop downstairs, and a cafe upstairs.
If you need a more substantial top-up, we can recommend the Ty Newydd pub. The Ty Newydd overlooks the sea and beach. To make the most of the location, you have the option to eat on the terrace and watch the world go by!
For more beach ideas have a look at our page dedicated to the beaches around the Llyn Peninsula: https://www.welshbreak.com/things-to-do/beaches/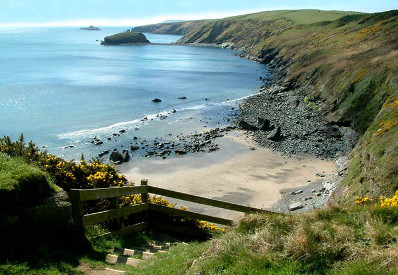 « World Travel & Tourism Council Safe Travels mark | AE, 12 Nov 2021 »