Back for 2022….Kayak Sessions in Aberdaron!
I have some great news! The summer of 2022 will see the kayak sessions back in Aberdaron. This is a fantastic opportunity for novice, or experienced kayakers to explore the coast off Aberdaron – all under the supervision of a qualified instructor.
The sessions will run from Aberdaron beach using sit on top kayaks which are easy to paddle and are very stable. 
Each session will be tailored to the group and the sea conditions on the day. When the sea is calm, they offer a scenic journey and the chance to learn about the coastline and its local history and wildlife. If the sea is rough and the weather is still favourable you can have a go at kayak surfing in the waves. On some days, sea conditions mean you'll do a bit of both! 
During the session you will be led by a qualified kayaking coach who will provide you with all the specialist equipment and look after you throughout your adventure.  
Sessions run from Aberdaron every Tuesday and Sunday in the summer holidays (24 July – 30 August) and also on the following Sundays: 3, 17, 24 July and 4, 11, 18 September. 
There are two sessions a day, starting at 10:30am and 1:30pm, each lasting approximately 2 hours.
 
The meeting place and session start point is Porth y Swnt visitor centre. 
A session costs £30 per person. Payment is made on the day at Porth y Swnt visitor centre located at the entrance to the car park in Aberdaron. Payment can be made using card or cash. 
Booking is strongly advised, although they may have some availability on the day. Please drop us Porth y Swnt an email at porthyswnt@nationaltrust.org.uk to book or for more information. You can also give them a call on 01758 703810 or pop in to Porth y Swnt to speak with a member of staff.   
The minimum age is 8 and children under 12 should be accompanied by an adult.  
You will need to fill in a medical form and a permission form before the session. This will be emailed to you at the time of booking. All children must have a permission form signed by a parent or legal guardian, either before the session or on the day .
Each session has space for 6 participants. 
Young paddlers may be best sharing one of the tandem kayaks with an adult for everyone to get the fullest experience on the day.
 
The ability to swim is useful but not necessary, but a degree of confidence in the water can help especially on less calm days.
 
You will need to bring swim wear, a big towel and footwear with a stiff, sturdy sole (old trainers are perfect, wetsuit shoes are too flexible). Wetsuits, buoyancy aids, helmets, paddles and kayaks are provided.
 
There is a changing room available inside Porth y Swnt.
 
Warm showers are available in the toilet block on the car park (50p for 5 minutes). There is also a free, cold-water shower outside for rinsing off.
All the information can be found at Porth-y-Swnt kayaking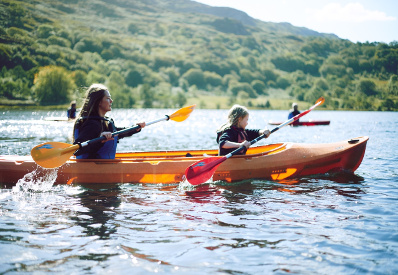 « Local Paddleboard and e-bike Hire on the Llyn Peninsula | VP, 5 July 2022 »